Happy merry month of May! From Ramadan, May 2nd, to Cinco de Mayo, May 5th, to Mother's Day, May 8th, to the Full Moon on May 16th to Armed Forces Day , May 21st, and then into the home stretch as we approach the unofficial start of Summer 2022!  Lots to celebrate, and lots of prepping to do as we prepare for an amazing Summer ahead! 
That makes the month of May "Prep month!"  Are you ready? 
Be sure to sign up for online classes and/or the in-person ones at your earliest.   Our boutique studio offers small, intimate and hands-on sessions to get you feeling and looking your best, but you'll need to get in!  Go to the "Reserve and Purchase" Tab.
*The discounted "May Day" month package ( 3 classes per week/ 12 for May is $215.) 
*You can also purchase any other packages on the above dates and receive a Palo Santo/Sage bundle.  Must be purchased on exact date underlined above, and while supplies last.   
*This Month's Workshop:                     
Introduction To Yoga:                    –
Fridays May 13-27th. 7-9 PM       
Thank you. May you be happy,  May you and yours be safe, and May you be at Peace.  
NAMASTE~
*MEMBERSHIP has its perks!
*10% off Yogic Essentials *Discounts on Privates, Specialty Classes & Workshops
 *Unlimited Passes include Membership when paid upfront, or on a contractual Monthly AutoRenew.  
*ANNUAL UNLIMITED PASS                          The best discount!  (Just abaout 2 months free!) 
*$988 – Virtual  / $1,988 – In Person
*6 MONTH UNLIMITED PASS:
*$588 Virtual  / $1,188 In-Person
~~~~~~~~~~~~~~~~~
~ALA CART As you like . Non-Member Option
 ~DROP-IN Virtual $13  / In Person $23
~
10 Class Pass
(Good
for 2 months)
Virtual $125  /
In-Person $200
~
Introductory 3 Class Pass  (One month expiry)
*******************************************************Also, don't forget to stay connected by signing up for our Newsletter, and follow on Social media for updates, and monthly give-aways!
Be sure to share the love!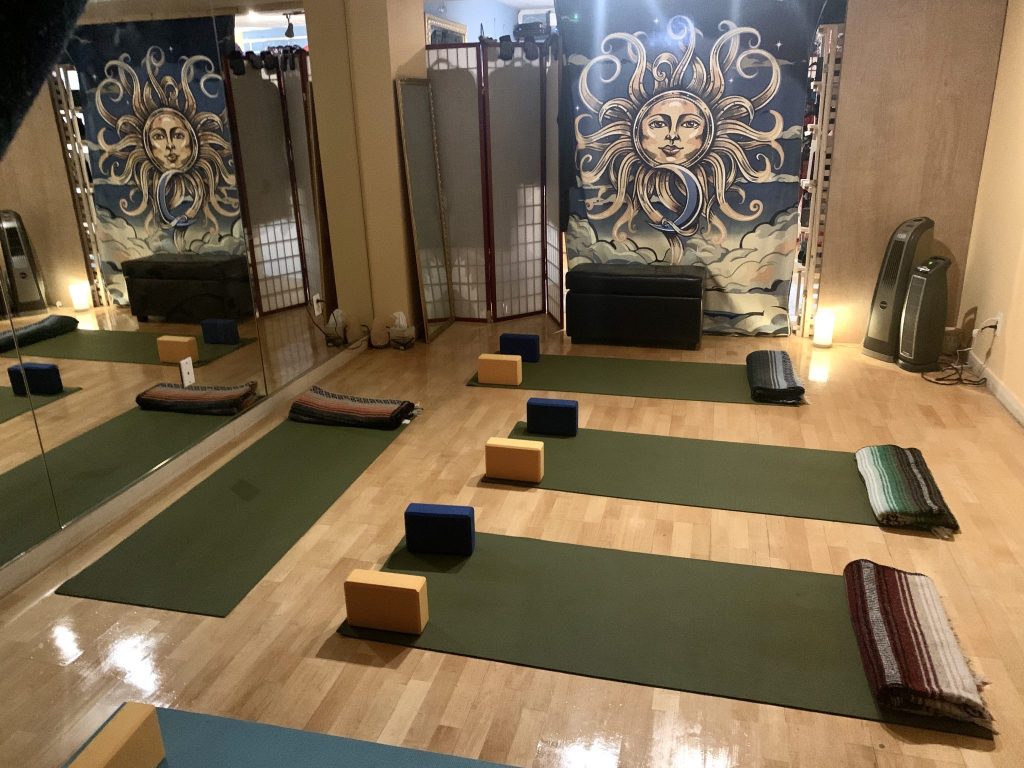 Mimi for Me Yoga Wellness welcomes every-BODY. We accommodate all levels and help you feel comfortable in any stage you find yourself in. We trust you will find the right class for you. 
Pick your membership and check out our schedule to join us online! 
Online not your thing? Mimi For Me Yoga Wellness offers private and semi-private classes in the studio. 
Contact us to find out how we can serve you.
Cancellations within 24 hours and no-shows are non-refundable. Packages are non-refundable, non-extendable, and non-transferable.
We love our seniors!
FREE LIVE STREAM Chair Yoga classes with Mimi offered weekly
in collaboration with our fabulous friends at:
Up to 70% off almost all items this MARCH ONLY!  Come in for this spectacular CLOSE-OUT Sale!  
                     Boutique Hours:                                              Monday & Friday: 1-6pm                Wednesday & Saturday 10-4pm
Supporting your spirit and wellness with items to enhance your "Me-Time" and yogic journey.
Our specialty sourced items are yogi-inspired, often handmade, all natural, and always cruelty-free.
*Skin Care, *Aromatherapy, *Soaps, *Sage Smudges, *Yogic Jewelry, *100% Essential Oils, *Diffusers, *Candles and more!
Gifts for Living, Loving, and Giving.
Our return policy is 7 days from purchase and must be returned unused, in the same condition, and in its original packaging.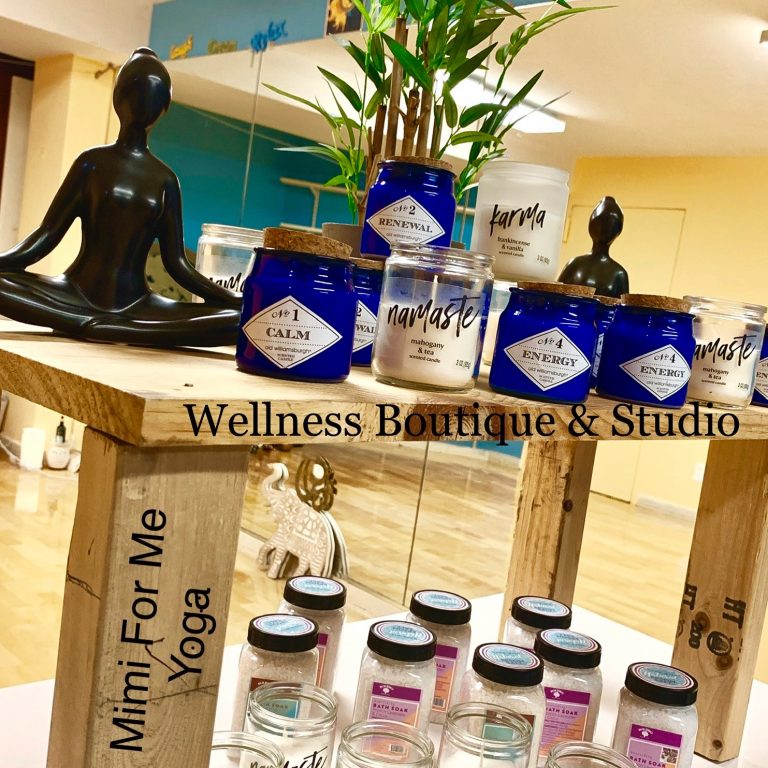 Special Group Event
A minimum 5 participants: For Birthdays, Graduations, Company Events, Bridal Showers, Tournaments, Pre-game stretch Meditation Motivation, etc. at your location or in studio.
Corporate Wellness
Improving the lives of employees through mind & body wellness simultaneously improves the lifeline of the organization.

Online Sessions
From the comfort of your home, office, and/or wherever you are in the world!
Just ZOOM in and you're in!

Private Sessions
Sometimes it just has to be your way, on your time in order to capture every detail and benefit, and truly enjoy that
"Me Time" whether alone, with that special someone, your besties, or co-workers.
Gift Certificates
Show them how much you really love and care for them by giving the gift of health and wellness.
*Private Sessions in any of *Yoga *Pilates *Thai Yoga Bodywork
*Specialty classes, or that perfectly curated *Custom gift!!!
Private sessions are offered in studio, your home or place of business.
"I started taking yoga and pilates classes with Mimi over a year ago during the pandemic. Her virtual class options were a life saver, helping me to get much needed exercise at an affordable rate. As a former dancer, I never really enjoyed yoga and pilates as much as I did dance classes, but that has changed with Mimi. I especially appreciate her knowledge of holistic well-being, her nurturing guidance on the impact of specific practices on individual parts of the body, and her warm approach to teaching."
"Mimi is a phenomenal and compassionate yoga teacher who overdelivers on the great value she harnesses. She recently did a family chair yoga event for my mother's 80th birthday and did such an amazing job with bringing all of us in touch with love, light and serenity."
"Mimi's classes all have their unique style and essence with Mimi's personal touch of wisdom, consciousness, creativity and novelty while keeping within the parameters of ageless Yoga and Pilates technical movements and safety measures for Yogis and Pilates practitioners of all levels. The classes are a very enjoyable and sacred way to maintain a healthy and disciplined mind/body connection while acquiring a toned, slim, flexible and energetic physique. She also has absolutely beautiful and soulful items for sale in her lovely boutique! Very highly recommended!"
During these trying times your kind support is graciously accepted as we continue to serve you the best way we can.   
Thank you.
Humildemente aceptamos su bondadoso apoyo durante estos momentos difíciles mientras continuamos ofresiendo nuestros servicios de la mejor manera que podemos. 
 Muchisimas gracias. 
Joy, Love, Gratitude, and Peace
Stay connected to happenings and more.