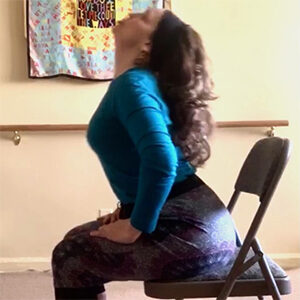 Chair Yoga is a great mind-body exercise that is accessible to all. It is especially beneficial for people with mobility challenges, by utilizing the chair for physical support and/or psychological comfort. Everyone from the young to the young at heart can benefit from this wonderful yoga modality to gain strength, flexibility, balance, and endurance. Older adults also report additional benefits, such as stretching painful muscles and improving circulation. Most of the exercises are done while sitting, leaning, or holding onto a chair. This is a great way to practice yoga for all! 
This class is available every Wednesday via Zoom at 3 PM in partnership with Queens Center for Gay Seniors and Stonewall Village NYC and every Tuesday (with weights)  and Thursday, also via Zoom, at 10:30 AM in partnership with Queens Community House.

***En Español***
Esta clase usa una silla para apoyo adicional. La mayoría de los ejercicios se realizan mientras está sentado, apoyado o agarrado a una silla. Esta es una excelente manera de practicar yoga para personas que de otra manera no son demasiado activas en sus vidas y / o tienen movilidad limitada.